Michael J. Madden, DPM
Serving White Plains for 35+ years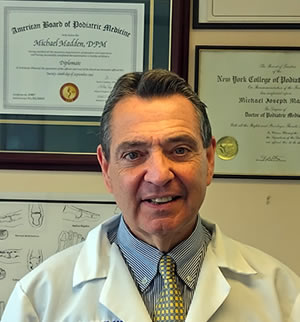 Dr. Madden received his Bachelor of Arts degree from NYU. He attended the NY College of Podiatric Medicine, graduating in 1984. He then completed a surgical residency at the NY College of Podiatric Medicine and its affiliated hospitals. He currently is a surgical attending at two teaching hospitals. Dr. Madden is Board Certified by the American Board of Podiatric Medicine.
Our Practice
Though surgically trained, Dr. Madden has a. general Podiatric practice, utilizing his many years of experience and advanced training to deliver Podiatric care of the highest quality. Dr. Madden loves practicing all phases of Podiatry, and takes special pride in having a warm, comfortable and caring-office environment.
Dr. Madden is an expert in the fabrication of custom foot orthotics, and treatment of plantar fasciitis/heel spur syndrome.